At Delmont Private Hospital providing optimum quality care that preserves the safety and wellbeing of our patients is at the core of everything we do. In order to ensure that our customers receive the best possible care from Delmont we have implemented a number of quality and safety improvement mechanisms to aid us as we strive for excellence.
Our commitment to quality and safety includes both internal quality assurance mechanisms as well as participation in an external accreditation process.
National Quality and Safety Health Service Standards
Accreditation is recognised as an important driver for safety and quality improvement and Australia's health accreditation processes are highly regarded internationally. The National Safety and Quality Health Service (NSQHS) Standards were developed by the Australian Commission on Safety and Quality in Health Care (ACSQHC) in consultation and collaboration with jurisdictions, technical experts and a wide range of stakeholders, including health professionals and patients.
The Standards provide a quality assurance mechanism that tests whether relevant systems are in place to ensure minimum standards of safety and quality are met, as well as providing a framework that allows health services to realise aspirational or developmental goals. These cover a variety of key areas from Governance, and Partnering with Consumers to Medication Safety and Clinical Handover strategies.
Quality & Safety Brochures:( click on each to download)
How We Measure Up
Our internal mechanisms are designed to meet the stringent requirements of the NSQHS Standards as well as to implement our vision and values as an organisation that strives for consistent best practice outcomes while maintaining an open and respectful relationship with staff and clients.
Our comprehensive Quality Improvement Program is designed to:
Monitor and measure our performance to identify opportunities for improvement through an extensive calendar of reviews, audits, risk assessments, indicators, data collections, outcome measures, and surveys
 
Provide structure and governance for hospital operations using policies, procedures, organisational chart, committee chart, committee terms of reference, credentialing, job descriptions, and performance reviews
 
Minimise risk through the implementation of a risk management plan, risk register, infection control program, incident and hazard reporting, and an occupational health and safety program
 
Involve patients and carers via surveys, feedback, focus groups, and the morning meetings; all actively promoting open disclosure
 
Train and develop staff through a core training and education program, as well as an extensive in-service calendar covering a wide range of topics
Clinical Management Measures - Clinical Indicators
A clinical indicator is a measure of the clinical management and/or outcome of care for a patient. As part of the Safety and Quality Program at DPH, we collect clinical indicator data as one method of measuring our performance.
Mental Health Clinical Indicators were developed as a mechanism to measure the clinical treatment of psychiatric patients. The indicators used by Delmont have been developed in consultation with key stakeholders including the Royal Australian and New Zealand College of Psychiatrists and the Royal College of Nursing, Australia.        
The graph below gives an example of our data measured against the industry benchmark.
Care Plans
The Care Plan is a therapeutic tool to provide individualised care of the patient which is essential for patient centred care.  A care plan flows from each patient's unique list of diagnoses and is organised by the individual's specific needs, guiding their treatment by the clinical staff.  A patient is asked to sign the care plan to show that it has been discussed with them and they have been involved in its creation.

Discharge Summary
Continuity of care is essential as the inpatient stay is only one phase in the management of patients with mental illness.  At Delmont all patients are given a Nursing Discharge Summary on  and a Medical Discharge Summary is completed and forwarded to the patient's GP/treating doctors/treating facilities on discharge or as soon as possible afterwards.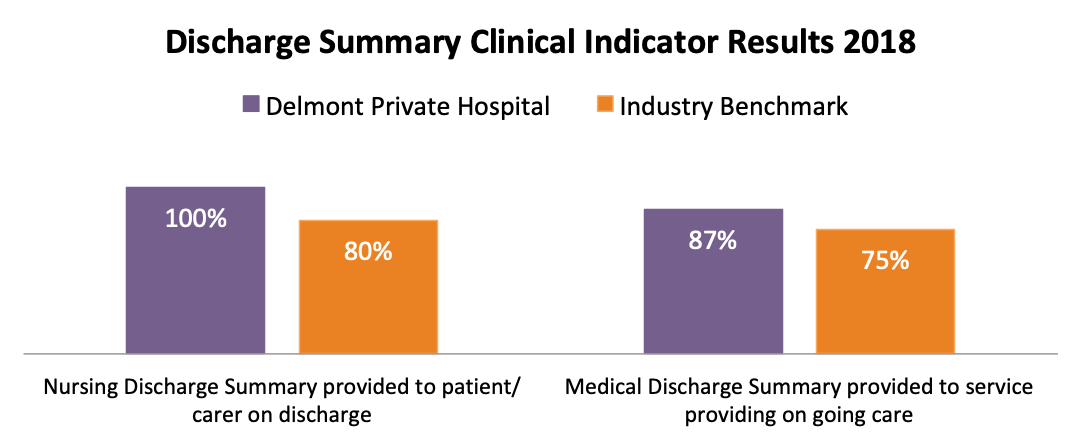 Length of Stay
This clinical indicator focuses on the length of stay in an acute inpatient unit.  At Delmont the focus is not on how long a patient is in the Hospital, but ensuring they get the care they need as efficiently as possible and discharge them from the Hospital as soon as they are ready.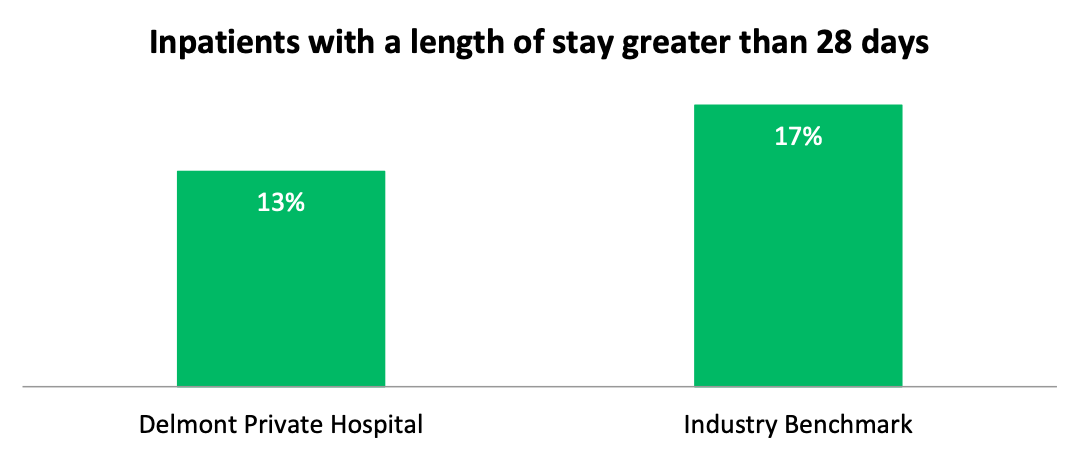 Patient Experiences of Care
On discharge we ask all our inpatients to complete the Patient Experiences of Care Survey.  This survey has been developed specifically to collect information from patients with mental health illnesses and is widely used by mental health facilities across Australia.
The graph shows the aggregated results for July to September 2017 and reflects high levels of patient satisfaction with Delmont Private Hospital.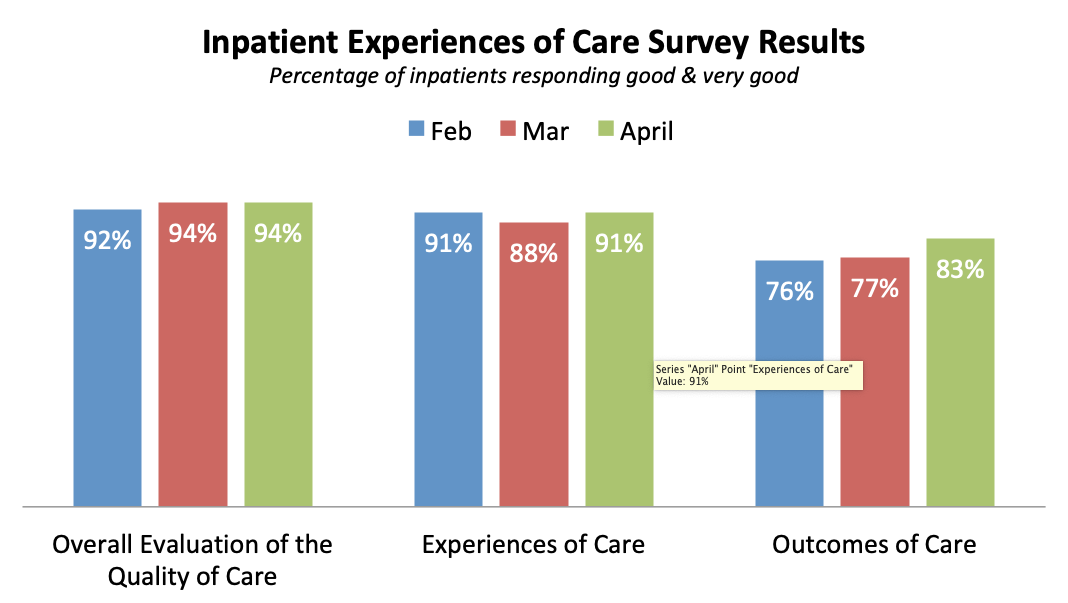 At the end of the Day Program module we ask all our patients to complete the Patient Experiences of Care Survey.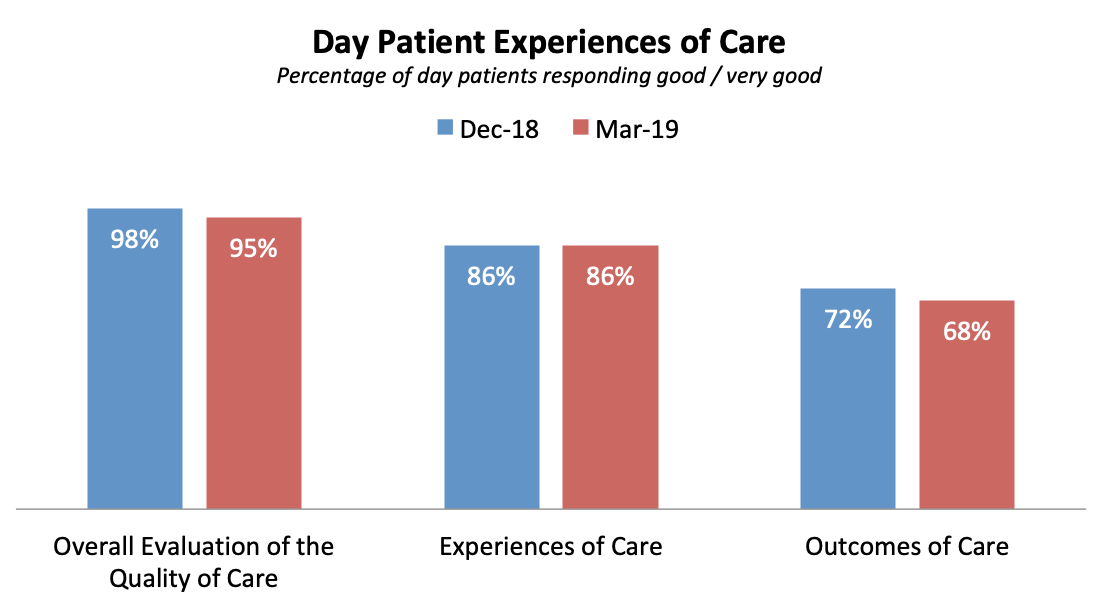 Hand Hygiene


Browse the menu for links to more information on policies related to our commitment to patient care; including Patient Privacy, Patient Rights and Responsibilities, and to contact our Consumer Representative.